Avon Breeze brings up the Fifty!!!
13-August-2017
13-August-2017 10:09
in General
by Admin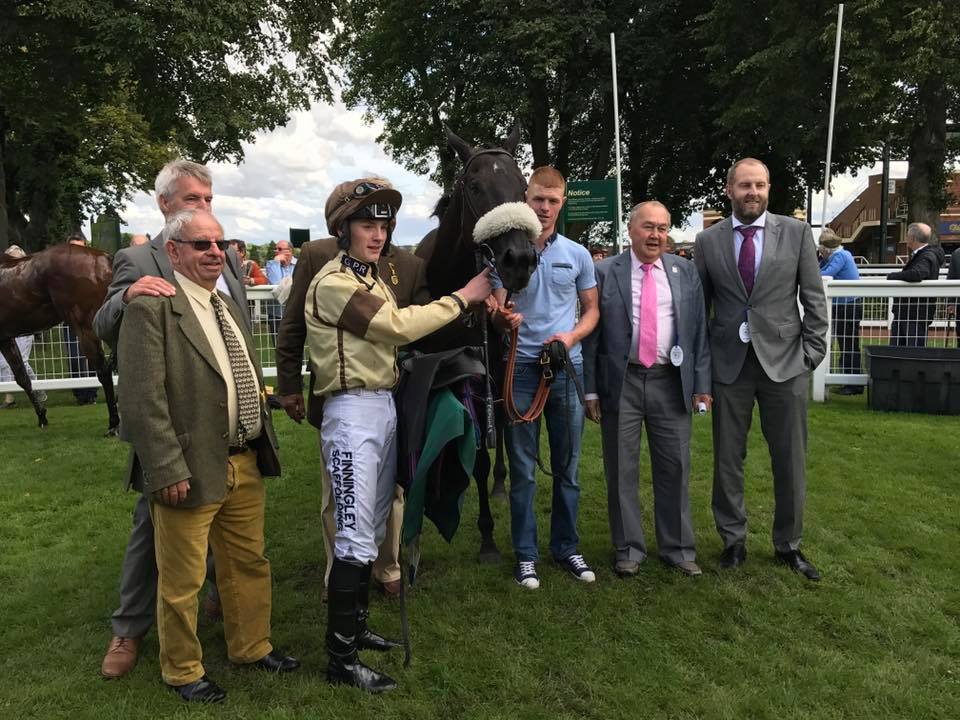 My apologies for not putting out the Blog for quite a while, but with racing in full flow, time is eaten away! Winners are like buses, you stand there waiting for ages & then three all come at once. Well it was beginning to feel a bit like that with our winners. We were sat on two winners for weeks until the 3rd July & since then we have had five more winners!
It was very fitting that the horse that should get us rolling again, would be our star performer of the last few years, AVON BREEZE. At the backend of last season it was decided that if she was to have a future as a broodmare, she should be put in foal this spring. We did this & as often is the case, mares tend to show significant improved form in the aerly stages of pregnancy. It must be all the extra hormones!! They can run for a total of 120 days from their time of covering. Luckily she has always been the type of girl that hasn't taken much getting fit, so on the 3rd July, she ran at Pontefract & as the vet said said she really was blossoming in pregnancy, we were excited to see her run. She didn't disappoint us & duelly obliged winning the class 3 6f Handicap. She continued to thrive & really enjoy her racing & added a further two wins to her name, both Class 3 6f Handicaps. The first of those two victories was again at Pontefract & that was followed by her first venture into Listed Company, where she aquitted herself really well. She was 5th of 5, in the Chester event, but was only a total of 5 1/2 lengths by horses that were all rated 100+.
Her last race was to be again be in a 6f Class 3 Handicap this time at Ripon, on the course where she had gained her biggest career win, the previous season. It was more with hope than expectation that she could win yet again & on her final outing. As has so often been the case with this mare, she yet again didn't let us down, coming from last to first & winning by a going away 1 length victory. Richard & Simon Whitaker & their team have done a great job campaigning this stunning looking mare & a special thanks must go to Lewis Edmunds, who has struck up a wonderful partnership with her in her final season & who has always taken care of her in her races. What made this final victory even more special & fitting, was that she was the one that brought up GPR's Fifty Winners!!!
Her career stats read - Ran 52, won 10, placed 9 times, Rated 90+(her final rating comes out on the 15th) & won over £100,000 in Prize Money.
She now goes to Newmarket's Tatersalls Mares & Foals Sales in foal to Equiano & if the foal possess half the guts or looks of her fantastic mother they will make a cracking foal. She has given all those that have been involved with some fantastic times. She will be sorely missed & very hard to replace. Thank You!!
We must not forget the other two winners that we have had over the last couple of weeks. They were the Karen Tutty trained GAELIC WIZARD, who given a very good strong ride by Gemma Tutty, won at Redcar on 2nd August. He won on ground that wouldn't have been ideal, so hopefully there is more to come from him. Then again at Pontefract, the Ruth Carr trained COSMIC CHATTER won a Class 4 6f Handicap under James Sullivan, by a very impressive 4 1/2 lengths. On that performance there should also be more to come, as long as the handicapper isn't too hard on us.
Our August Newsletter is now out & for your free copy email adcrombie@hotmail.co.uk or call me on 07506479522