WINNER & April Newsletter
28-April-2016
28-April-2016 11:13
in General
by Admin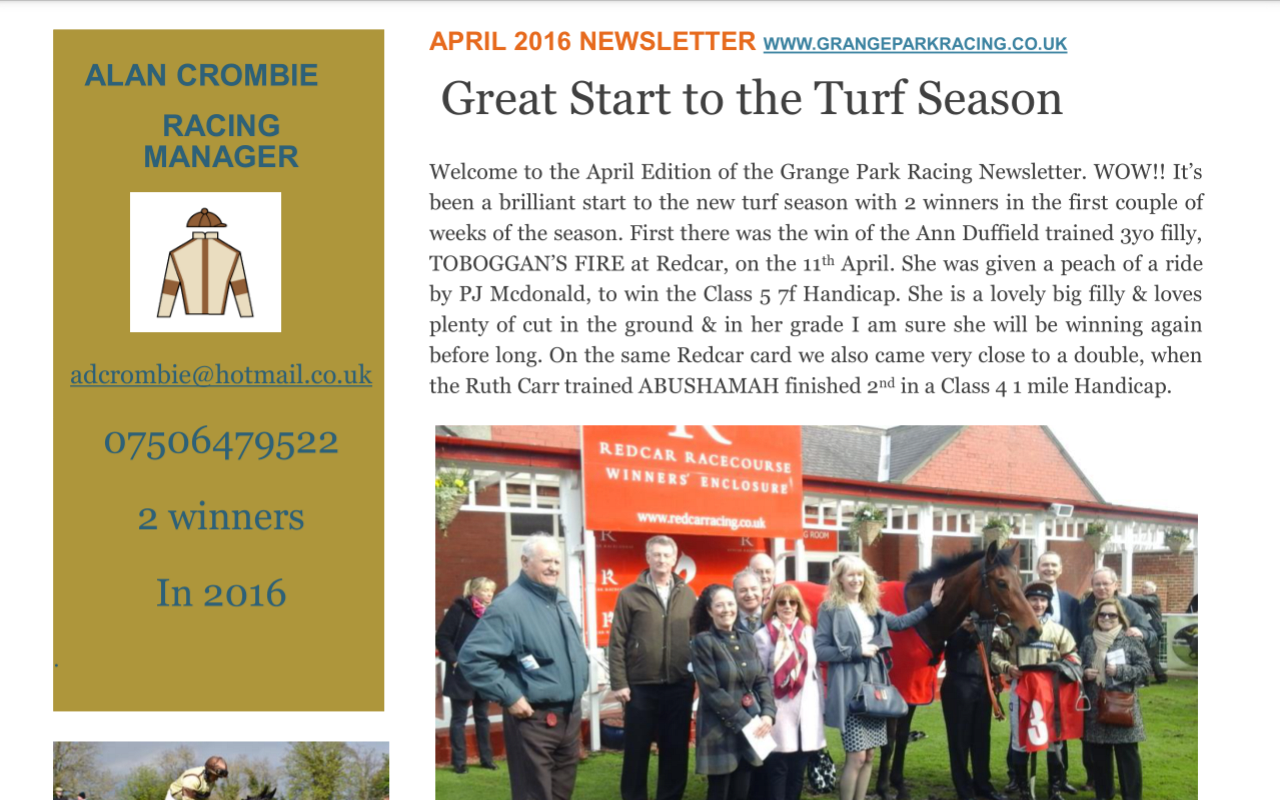 WINNER!!! It's always a worry when the turf season commences, as you never really know when you will get your first winner. Imagine then, the relief when GPR had their first winner of the new season, within the first couple of weeks of it starting. You tend not to have many runners, as the season tends to splutter into action, with not many race meetings about, so it was a real bonus when TOBOGGAN'S FIRE won at Redcar.
With that we would have been delighted with one on the board by the end of April, but we have surpassed that, with yet another winner, before it's end. It wasn't just any winner, it just happened to be GPR's biggest win to date. The race was the £25k Class 2 6f Handicap at Ripon on Saturday 23rd April & the horse that did the winning, was the Richard Whitaker trained AVON BREEZE. She was given a really good ride by Paul Quinn to win by a neck. He really deserved this success, as he rides out regularly at Richard's & doesn't get the mounts he deserves these days. Avon Breeze is also the highest rated horse in the GPR team, with a rating of 91, so will continue to run in some really nice handicaps & may even try her luck in a Listed race.
Our April Edition of the GPR Newsletter is now out & well worth a read. It has details of our recent wins, as well as details on all our other members of the team. For your free copy please email me on; adcrombie@hotmail.co.uk
On a more serious note. In recent weeks, a syndicate who go under the name of "Equo Racing Ltd" have been selling shares in horses that are in training with trainers. Unfortunately this syndicate took the money from the shareholders, pocketed the money & have not paid the trainers & are now unable to be got hold of. The shareholders didn't have any paperwork, so to all tense & purposes, have lost their money. There are some really good Racing Syndicates in the market, but it is important that when you sign up with a syndicate that you make sure you have an agreement. One of the best ways of making sure that you are with the right syndicate, is always when a trainer or someone you know has been involved with a syndicate & they can reccomend them!!!