FOXY BOY Trained By REBECCA BASTIMAN
FOXWEDGE x SUZY WONG
1 Win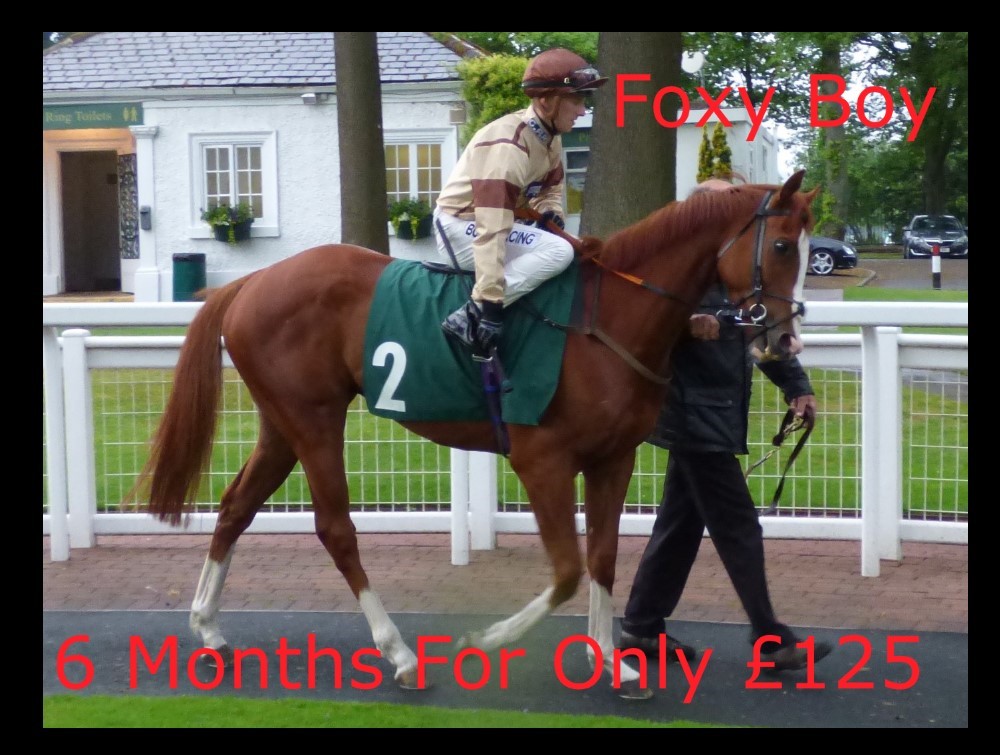 ONE OFF PAYMENT OF ONLY £125!!!
This is a new offer from 1st January to 30th June 2019
Rebecca Bastiman Open Morning 10am Sat. 12th January 2019
To book your place to view Foxy Boy email adcrombie@hotmail.co.uk
or Call Alan on 07506479522
This flashy chestnut gelding has taken his time to come to hand, but is now down to a very handy mark.He will run plenty of times throughout the lease period & is a proven winner, having already won on 4 occasions.
We are delighted to be able to offer shares in this flashy 4yo chestnut gelding, that is fantastic value & affordable to suit all pockets!!. Ideal as Gift or Birthday Present for any racing enthusiast!! This already 4 time winner will be trained by the young up & coming Rebecca Bastiman. She has taken over the training from her father, who himself was a Group 1 winning trainer, having trained that grand sprinter, Borderlescott. In only her 2nd full season with a licence, she has already achieved over 20 winners from her small string of horses. Grange Park Racing is also excited at the prospect of being the first syndicate to have horses in her yard.
Foxy Boy is a 54 rated gelding that will run in 5 & 6f sprint handicaps both on the allweather & turf. We are offering shares in this gelding at a One Off Payment of only £125 for a 6 months period, running from the 1st January 2019 to 30th June 2019. The one off payment is all inclusive with nothing else to pay & unlike other syndicates includes a welcome pack, which consists of an agreement, a photo of Foxy Boy & his pedigree page, as well as a GPR Enamel Metal Lapel Badge. The shares are in a value of 0.3% lease shares & include your percentage of all prize money, badges, all notifications of entries & declarations, stable visits, Race Reports, Newsletters, a dedicated owners website login page, with regular horse updates.
One off Payment of only £125
Welcome Pack
Race Day Badges(on a draw rota basis)
Text & Email Notification of Entries & Declarations
Race Reports
Newsletters
Stable Visits
Your Percentage of all Prize Money
Great Christmas or Birthday Present!!!
Dedicated Website Owners Login Page.
As well as invites to all other Social Events
Payment can be made either by cheque or Bank Transfer. Please email Alan on adcrombie@hotmail.co.uk. or text 07506479522.